Last updated on February 8th, 2023
What is Form 16A?
Form 16A is a certificate of TDS on Income other than Salary. When TDS is deducted from the payments like a commission, contract, professional fees, rent, interest, etc., Form 16A is issued.
It is issued by the deductor to the deductee. Deductor (Payer) is a person who makes a payment and deducts TDS. And Deductee (Payee) is a person whose TDS is deducted. Deductor is responsible to issue Form 16A to the deductee within 15 days from the date of filing the TDS Return.
Form 16A is different from Form 16. Form 16A is for TDS on income other than salary, unlike the latter which is for TDS on salary.
Details in Form 16A
Name, Address & PAN of the Deductee.
Nature of the Payment, Amount Paid, and the Date of Payment.
TDS challan details.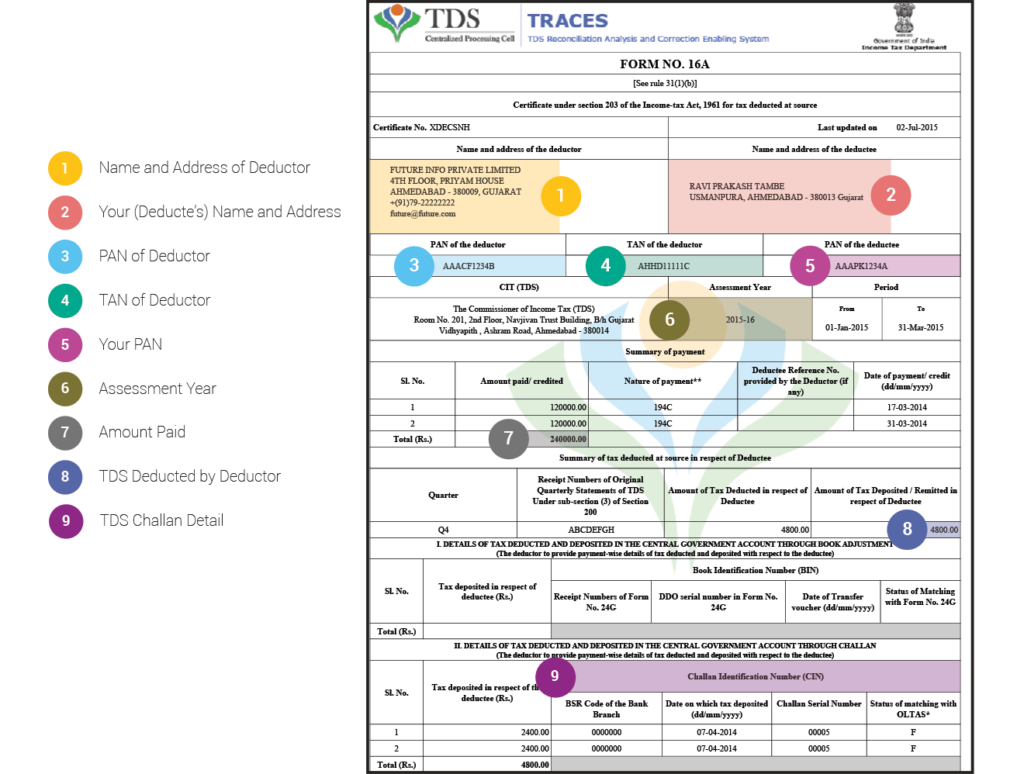 It is the deductor's responsibility to provide the Form 16A to deductee as a proof of tax deduction. If you have not received the Form, you can check your Form 26AS for TDS credit. The deductor can download Form 16A from his account on TRACES.
Find the best plan
Find the best plan
Find the best plan
Find the best plan
FAQs
What if a person deducts TDS from my income and doesn't provide me with Form 16A?
If a person doesn't provide you with Form 16A, no need to worry. You can always download Form 26AS (Tax credit statement) from your the income tax e-Filing account. And check credit of TDS deducted by a payer.
Is there a way to download Form 16A online?
Deductor can download Form 16A from his account on TRACES. However, a payee can not download Form 16A from TRACES.
Do I have to keep all the Form 16A on record?
It is always a good practice keeping all TDS Certificates with you. However, Form 26AS contains the same details so even if you have not received all Form 16A, you need not worry.