Last updated on February 8th, 2023
House property is any Land or Building or land attached to the building. The land could be a courtyard, parking space, or compound. A taxpayer needs to report income earned from such Property while filing ITR. Hence it is important to keep supporting documents checklist while calculating Income tax. It also includes:
Residential houses/Flats
Shops
Office space
Factory sheds
Farmhouses
Godowns
Cinema building
Workshop building
Hotel building etc.
File Your Tax Return
On Time , Online on Quicko.com
Open Your Account Today
File Your Tax Return
On Time , Online on Quicko.com
Open Your Account Today
You can file ITR-1 if you have earned income from one property. However, you need to file ITR-2 if you own more than one property. You can file ITR online using ITR Utilities or through registered e-Return Intermediary (ERI) like Quicko.
Find the best plan
Find the best plan
Find the best plan
Find the best plan
House Property Income Documents Checklist
PAN
Income Tax Department (ITD) issues Permanent Account Number (PAN). It is an alphanumeric ID of a taxpayer who is liable to pay taxes. PAN enables the department to link all transactions of the "Person" with his "Income". Hence it is the most essential document while filing ITR.
Aadhaar
Aadhaar (Aadhaar Card) a 12 digit unique identification number issued by the UIDAI (Unique Identification Authority of India). It is mandatory for Resident Individuals to provide details of Aadhaar while filing ITR.
Utility Bill
While filing ITR taxpayers have to disclose the address of all the properties owned by them. Utility Bill contains property addresses and thus serves as a proof of address.
Rent Agreement
Rental Income is taxable income. Therefore, rent agreement between the owner and the tenant for a particular house property serves as proof of income earned during the financial year.
Form 16A
Form 16A will be provided if TDS is deducted on your rental income. While filing your ITR you can claim this TDS using Form 16A.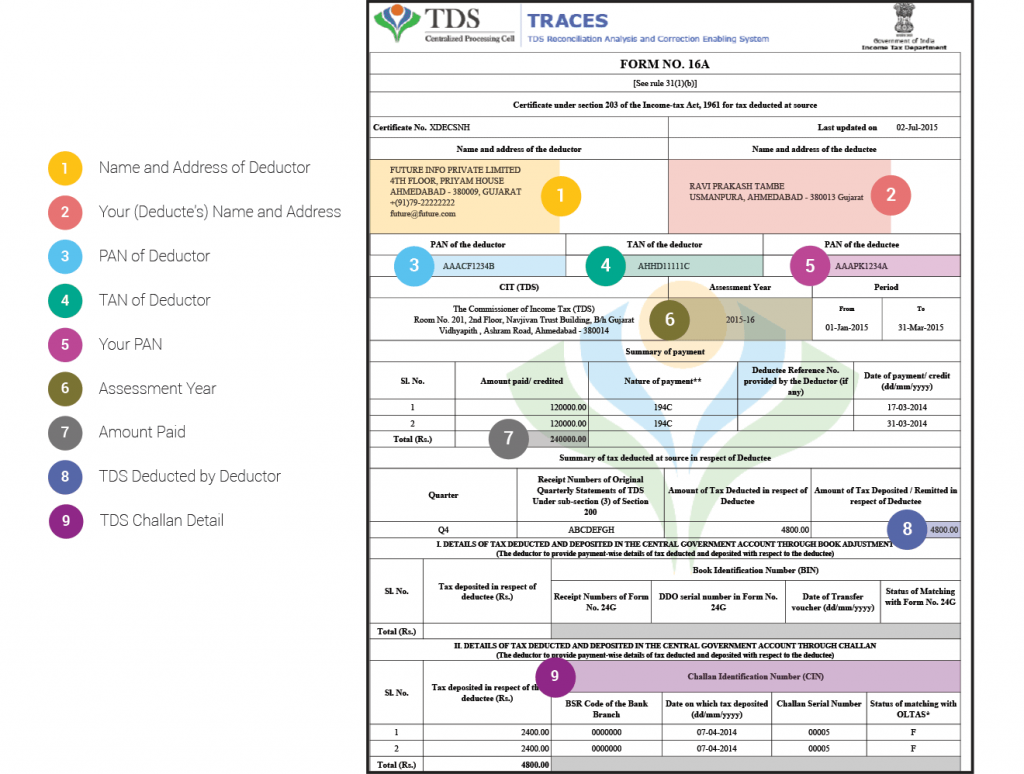 Home loan repayment certificate/ Interest Certificate from the bank
This certificate consists of capital amount, repayment amount, the interest charged, and co-ownership details. This serves as proof for claiming a deduction on Interest Repayment and Principal Repayment. And reduces your net taxable house property income.
Municipal Tax Receipts
Municipal tax is paid on properties. Taxes paid on let out properties can bring down your net taxable rental income. Therefore, Municipal Tax receipts are required while calculating the income from house property.
31st July
ITR filing Due Date for taxpayers having House Property Income.
31st July
ITR filing Due Date for taxpayers having House Property Income.
FAQs
How to calculate self-occupied house property income?
A Self Occupied House Property is the one that you use as your own residence. This property can be in use by your children, spouse, and/or parents. Since there is no Income from such House Property, the gross annual value of this property is NIL (zero).
How do you calculate Income from House Property?
The assessee must be the owner of the properties. Identify the Gross annual value (GAV) of the house property. For self-occupied property, the GAV would be nil while for let out property the GAV will be the total rent received. Deduct municipal taxes paid by you (owner) towards the house property. Now you will realize the Net annual value of the house property. From NAV, deduct standard deduction of 30% and interest paid by you on a house loan. This will give you your Income from house property.
GAV- Municipal tax = NAV
NAV- Standard deduction- interest on borrowed capital= Income from house property.
What happens if I delay filing my ITR?
Firstly, If your income falls under the taxable bracket you have to file your ITR without fail. Secondly, If you missed the deadline to file the ITR you can still file it but you may attract penalties. Moreover, If you don't pay your taxes on time then if you are claiming any refunds they will get delayed. You will get lesser time to revise your ITR. and Lastly, You will have to pay interest on the taxable amount if you delay filing your ITR.
Who is required to file ITR?
Every taxpayer whose income exceeds the Basic Exemption limit needs to file ITR. If your age is below 60 years and your income is more than rupees 2.5 lakh p.a then you are eligible to file your ITR.
What are the documents required to file ITR?
Following are the basic documents required to file ITR:
-PAN
-Aadhaar
-Form 26AS
-Bank Account Details
-Tax Payment Challan
-Original Return (if filed)