Last updated on April 14th, 2021
Form 12BB (Investment Declaration) is an essential document for a salaried person. It is basically a disclosure of all their tax-saving investments in that particular Financial Year. Form 12BB is required by the employer for an accurate calculation and deduction of TDS on salary income. It needs to be submitted at the beginning of every financial year.
For example… Mr. Yash has invested 3 lakhs in tax saving schemes in this FY 2019-20. So, he has to file his form 12BB disclosing all the details of those investments to his/her employer between 1st April 2019 to 30th June 2019. While He can submit all evidence of those investments between 1st January 2020 to 31st March 2020. This practice is advisable for an accurate TDS deduction.
Sample Form 12BB – Investment Declaration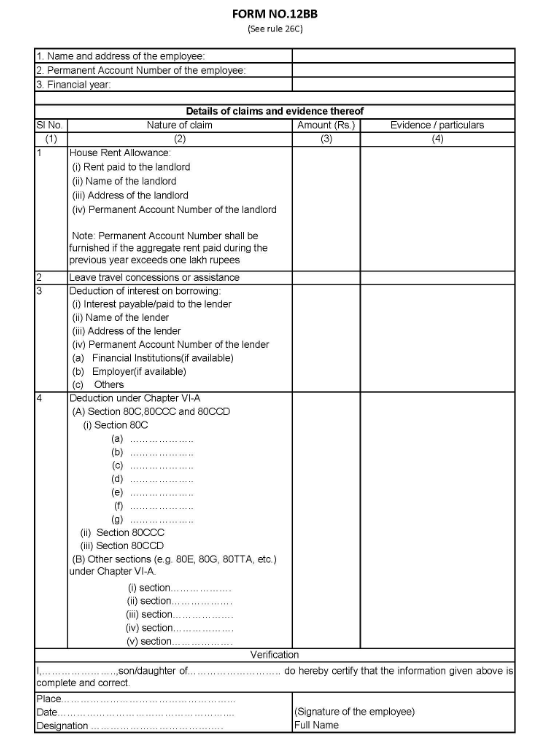 Form 12BB
Download the draft of Form 12BB
Download
Form 12BB
Download the draft of Form 12BB
Download
Supporting Documents – Form 12BB
Personal Details: Name, Address, PAN, Designation of the employee
Current Financial Year
Deduction of Interest on Borrowing
Other Details: Place, Date, Signature
FAQs
Is it mandatory to submit Form 12BB?
No. It is not mandatory to submit the Investment declaration. However, if you do not submit the same to your an employer, than he will deduct excess TDS on your total salary without allowing you any tax deductions. So it is highly advisable to submit your investment declaration in Form 12BB to your employer.
When do I have to submit Investment Declaration?
Generally, employers ask for a declaration in the month of April i.e, at the beginning of the financial year to calculate TDS for the year. If you join a new job then at that time you need to submit Form 12BB. Employees may submit the investment proofs later on during the financial year.
What if I don't submit Form 12BB on time to my employer?
In case you don't submit form 12BB to your employer within a prescribed time, the employer will not be able to give you the benefit of deductions. As a result, excess TDS will be deducted from your salary. Do not worry you can claim a refund of such excess TDS while filing your income tax return.
Do I have to submit Form-12BB to income tax department?
No. You need to submit Form 12BB to your employer. This form will allow the employer to calculate and deduct accurate TDS from your salary.